Chats, tasks, projects, teams. Everything.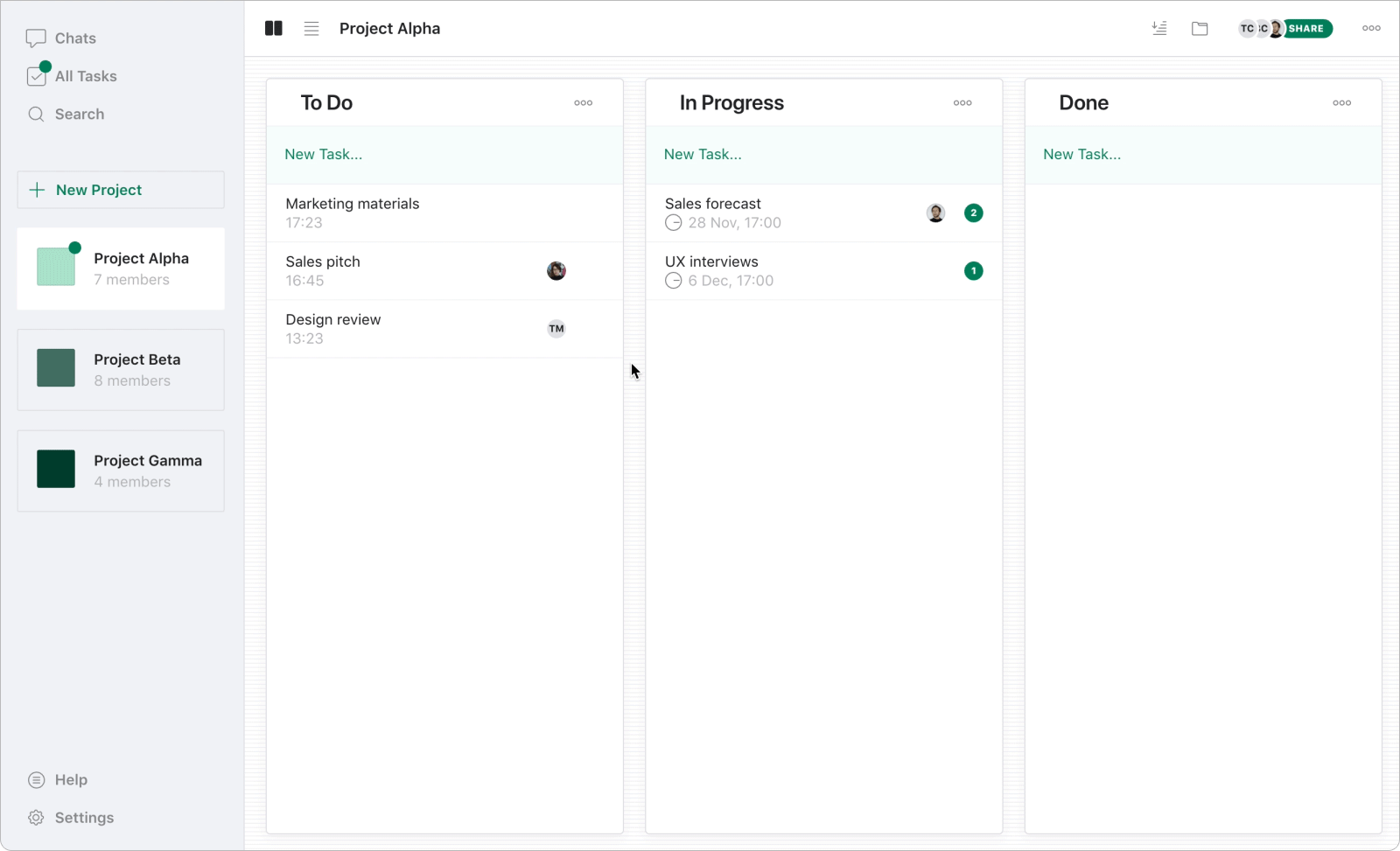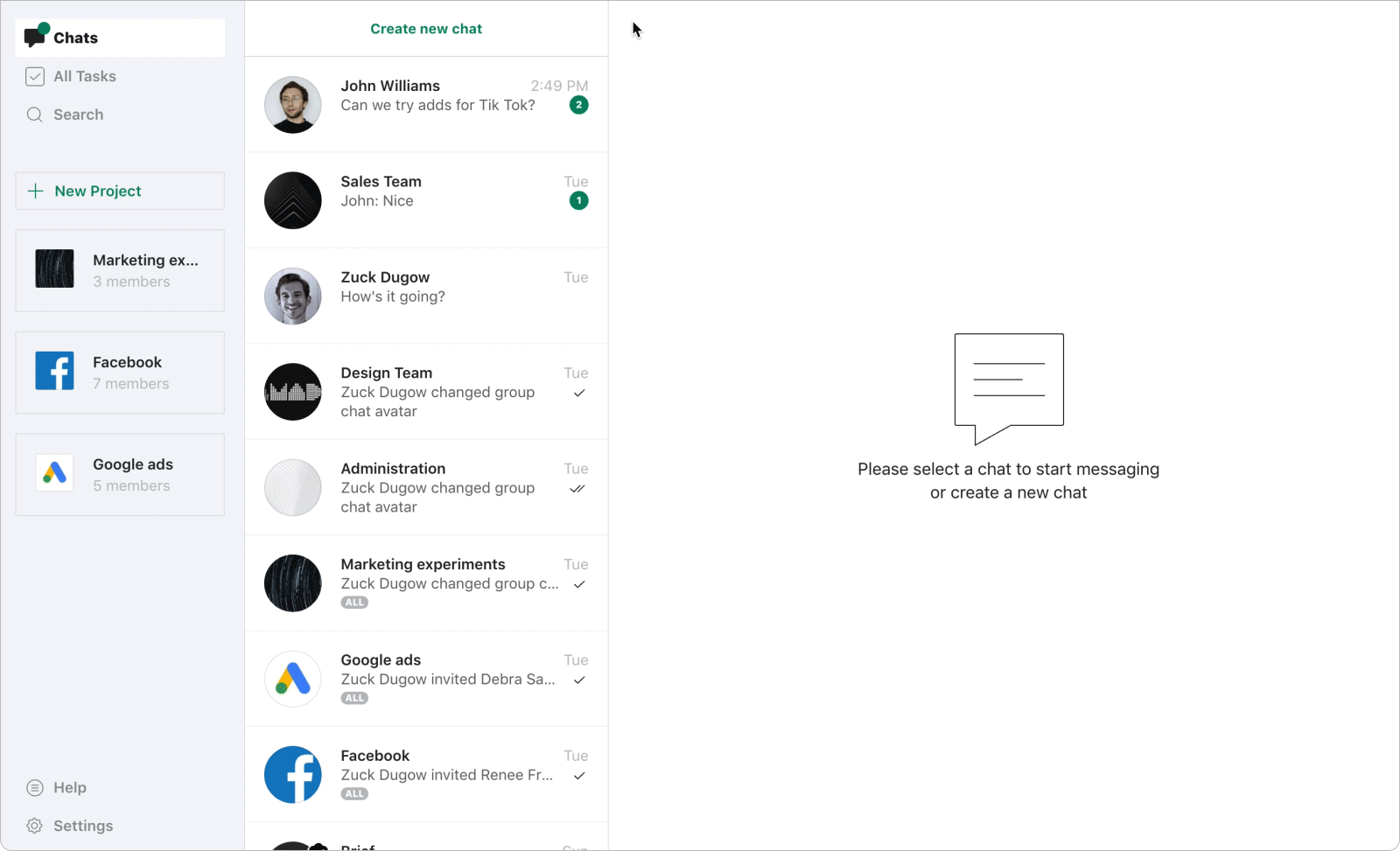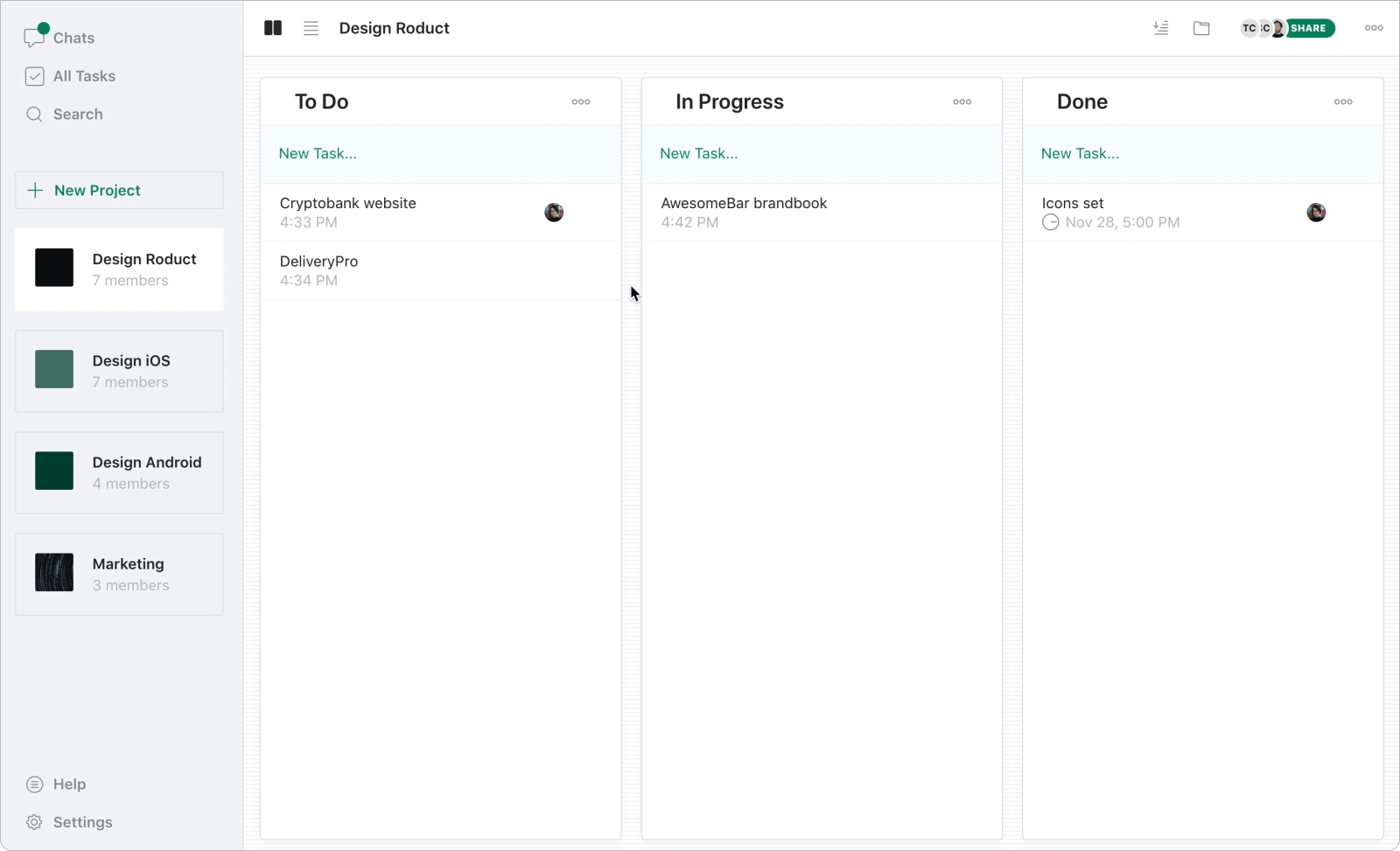 Copywriting
Development
Content Marketing
Digital Marketing
Advertising
Social Media Marketing
Creative Agencies
Product Management
Consulting
Accounting
Human Resources
Shipping and Delivery
Supply Chain Management
Law Firms
Public Relations
Media Planning and Buying
Email Marketing
SEO Agencies
Web Design
Video Production
Branding
Music Production
Hospitality
Food
Tourism
Sales
Event Management
Healthcare
Even though there are tons of tools for project management and communication, we were still facing multiple problems while using them  daily

— we had to switch between communication, project management and task tracking apps all the time instead of only using just one tool
‍
— we had issues with limited possibilities to work on multiple projects at once

— when managing daily workload, tools were either too simplified or extremely complex

— most of the messengers were adjusted for memes and emoji rather than for productive communication

— we had issues managing internal and external communication
To solve them all we created Brief
Chats
Tasks
Projects
Video & Audio
Kanban boards
File storage
Chat to Task
Timeline
Integrate your favourite apps with Brief via Zapier (Early Access)
Brief helps users focus on real results with a one-at-a-time approach to tasks.
— VentureBeat
When it comes to team management, Brief is one of my favourite tools on the market.
— Adrian Drew, Contributor @ The Startup
Brief is my personal favorite because of its versatility, sleek look, and the integration of chat and task managers.
— Sam Ripples, Contributor @ The Startup
Brief is really optimized for group projects.
— Xda Developers
Project management does not always require professional certification. You do it day by day at work and in personal life. Sometimes what you need is a simple tool that works.You found it.

Don't just take our word for it.
—

All data is fully encrypted, in transit and at rest.

—

Hosted in data centers maintained by industry-leading service providers, offering state-of-the-art physical protection for the servers and monitoring.

—

Cloud-based solution. We automatically update and back up your data, so you will not lose it.

Try Brief for free
Free trial for 7 days, no credit card required.
Basic

—
Unlimited projects and kanbans
—
Web, Desktop, iOS and Android apps access
$19.90
Sign Up for Free
Advanced

—
Unlimited projects and kanbans
—
Web, Desktop, iOS and Android apps access
—
1000 minutes of audio and video calls per month
$29.90
Sign Up for Free
Enterprise

If you have more than 100 employees, sophisticated business operations or if you have tailored feature request — just contact us
Custom
Talk to our experts
FAQ
— What is Brief made for?
Brief is an all-in-one project management tool that fully supports your day-to-day project activities. It combines chats, tasks, projects, file sharing, video conferencing and storage, and helps you set the priorities and focus on important.
— How can I switch to a  different Brief plan?
To switch to a different Brief plan, you need to go to Settings and manage further from there.
— How to create a Project in Brief?
To create a Project click on + button, insert a title in the Name field, and press Create.
— How can I add / invite people to Brief?
You can invite others by sharing your personalized invite link. Go to Settings and click on Copy Link. Anyone who clicks on the link will instantly enter a chat with you upon signing up. You can also invite others by sharing Project link, so anyone who clicks on it will immediately join a Project you shared upon signing up. In the particular Project, go to members and click on Copy link.
— How can I contact Brief Support?
Get direct support right from the Brief app by clicking on the Help button.
Anywhere on any device
Brief have apps for any devices. All clients synchronize in real-time. You can use Brief on the web application on Desktop browsers: Latest 2 versions of Chrome, FF, Safari, Edge. Mobile browsers: Chrome, iPad Safari
© 2022 Brief Communications Inc.
Delaware, United States